As you have seen from the images I'm an amatorial photographer who wants to improve his own technique.
I know that there's still a lot of work in this direction!
My idea is to equip myself with more performace lenses to realise good shots in whatever condition of light.

My photographic equipment is therefore composed: Reflex Canon EOS 30D + Canon Powershot G5.

I've purchased the 30D in the second half of May 2006 with the complete purpose lens Sigma 18-200 F3.5-6.3.

Impressed from the enormous developments of digital photography I have decided to change the good G5 for a performance system with interchanging optical like the reflex.

The photos of the year 2006 are therefore fairly uniformed between Canon G5 and 30D, which first use was in Modena in occasion of the "1000 Miglia".
These are other lens in my possession:

- Canon EF-S 18-55 F3.5-5.6
- Fish-eye Zenitar 16mm F2.8
Finally in December 2006 I have bought the Sigma 20-40 F2.8-2.8 EX and flash Canon 580 EX for "Indoor Show".
The first important use of 30D+Sigma 20-40+580EX has been at the "Bologna Motor Show 2006". Personally I'm very happy of images quality!
A great update equipment came during 2007
In the month of January I finally found, after a long search, a rare and old lens of Canon L series. The model is a push-pull telezoom Canon EF 50-200 F3.5-4.5 L. I immediately loved the quality of this old lens

Unfortunately AF is not as fast as the latest USM engines, but apart from that, I have nothing to say. The quality of shots is fantastic with sharp images and vivid colors. Dispite the age, this lens is constructed in a very robust plastic body. After 20 years still works perfectly!
Another lens has become part of my photographic equipment, this time in the month of September.
I decided to buy a professional F2.8 lens that could be fine for all occasions, so I had the opportunity to take a wonderful Canon EF 28-70 F2.8 L, used but in really good condition incuring the hood, caps and bag for transport. All for a reasonable price!

Regarding this lens I'm fully satisfied. The construction is accurate and precise, AF is moved by USM engine so is fast and silent. Shots quality is spectacular and also at F2.8 pics are sharp, bright and with natural colors...It's a joy to use!
The last entry this year came in December. To substantially increase the shutter autonomy and get a better-hand body camera, I took the original Canon battery grip called BG-E2N. Now, take vertically shots become much easier with a second shutter button.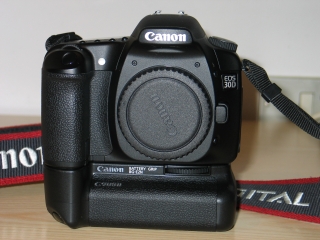 Canon Eos 30D + Battery Grip BG-E2N
Finally here two shots that brings together all lenses currently in my Line-Up:
December 2008, it's time to update this page!
This year has seen the expansion of my photographic equipment. I must admit that I try to constantly add and improve the quality of lenses in my possession...

Before moving to the "new entry", here's a strange combination, my compact Canon G5 with the big 580 EX pulled over! I did some experiments and I must say that the coverage of flash has improved dramatically in the amount of light! The problem is that the flash is too heavy on the G5 and the system is not balanced. It appears very difficult to hold the camera steady...Ok, ok, only a test, but nice to see that old compact Canon work perfectly with this professional flash.


Well, it's time to return into the world of DSLR photography with the latest lenses in my line-up

The sample that I found has remained unused for a long time and fortunately is under wonderful condition, especially the front glass is clean and free of signs. There is no mold, the motor-focus works well and the zoom is fluid.
Why this lens?
Second, sharpness and resolution are very good, better than his younger brother and the impressive thing is that even at 300 mm shots don't suffer a loss of quality. If we add to all that, on used market are avaiable with a reasonable prices, I think is really a lens with high value for money.
This has been for a long time one of the lenses of my dreams. I had planned to take the best Canon wide-angle zoom and at the end I made the big step!
How is this lens? Fantastic, really fantastic! Even if it has been optimized for Full Frame reflex, I must say that on 30D works beautifully and I can't do without it!!
In November I purchased an additional 0.5x super wide angle converion lens for Canon Hf100 (HD-5050pro).
During all hours of the race I placed the lens on monopod and I finally concluded that the only way, at least for me, for not too tired. Using by hand is certainly possible, the lens is well balanced, but if you use it for several hours Sigma start to be tiring. With the monopod there's no problems.
Considerations about image quality used in combination with Canon 30D.
I make often use of polarizer filters for outside shots. I have some of them in various dimensions following the lens that I use. I think they are really important to delete undesired light effects on cars.
The images are realized in JPG and reduced with the program "The Gimp". If necessary color and contrast can be improved in some parameters.
The published photos are in the biggest resolution avaiable. Please do not contact me to ask to send bigger images in your private e-mail.
Do you have a great supercar and do you want to see it on Italiansupercar.net with a private photo session? Contact me, I will estimate if the thing is possible.