Page 2 of 7
December 2008, it's time to update this page!
This year has seen the expansion of my photographic equipment. I must admit that I try to constantly add and improve the quality of lenses in my possession...

Before moving to the "new entry", here's a strange combination, my compact Canon G5 with the big 580 EX pulled over! I did some experiments and I must say that the coverage of flash has improved dramatically in the amount of light! The problem is that the flash is too heavy on the G5 and the system is not balanced. It appears very difficult to hold the camera steady...Ok, ok, only a test, but nice to see that old compact Canon work perfectly with this professional flash.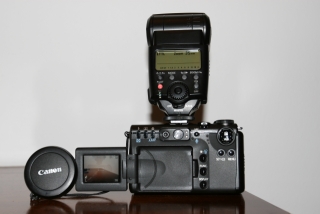 Canon Powershot G5 + Canon Flash 580 EX



Well, it's time to return into the world of DSLR photography with the latest lenses in my line-up

In February, I found the older brother of Canon 50-200 F3.5-4.5 L which already have, that is the mythical 100-300 F5.6 L
These two lenses are very similar and therefore the 100-300 F5.6 L use a push-pull zoom system, that personally I really love!
The sample that I found has remained unused for a long time and fortunately is under wonderful condition, especially the front glass is clean and free of signs. There is no mold, the motor-focus works well and the zoom is fluid.
Why this lens?
First because is relatively small and light. I can have always with me a zoom up to 300 mm with L quality.
Second, sharpness and resolution are very good, better than his younger brother and the impressive thing is that even at 300 mm shots don't suffer a loss of quality. If we add to all that, on used market are avaiable with a reasonable prices, I think is really a lens with high value for money.
Now I talk about the last lens arrived, always Canon, always L...are you ready?
I'm happy to tell you that in July 2008, after several months switched to save money I have bought a brand new Canon EF 16-35 F2.8
L
type II

This has been for a long time one of the lenses of my dreams. I had planned to take the best Canon wide-angle zoom and at the end I made the big step!
I think this lens will stay with me for many years and I hope to be able to use in the future when I decide to leave APS-C DSLR camera for the world of Full Frame DSLR....hey guys, not soon...

How is this lens? Fantastic, really fantastic! Even if it has been optimized for Full Frame reflex, I must say that on 30D works beautifully and I can't do without it!!
I like everything about this lens. It's compact and relatively lightweight, built like a tank with two good fluide rings is tropicalized and USM engine is still faster than that used on canon 28-70 L !!! Really impressive. From July, I used a lot and this wide L is becoming one of my inseparable lens especially for indoor events. Together with 28-70 L I can take always shots that leave me amazed even in low light condition. Without doubt are two really good tools of work!

I hope in the future to make the best use of these 2 beautiful lenses!

Canon EF 16-35 F2.8 L II + Canon EF 100-300 F5.6 L

And finally here my Canon equipmnent with all
L
lenses, from 16 mm to 300 mm