Page 1 of 7
As you have seen from the images I'm an amatorial photographer who wants to improve his own technique.
I know that there's still a lot of work in this direction!
My idea is to equip myself with more performace lenses to realise good shots in whatever condition of light.

My photographic equipment is therefore composed: Reflex Canon EOS 30D + Canon Powershot G5.

I've purchased the 30D in the second half of May 2006 with the complete purpose lens Sigma 18-200 F3.5-6.3.

Impressed from the enormous developments of digital photography I have decided to change the good G5 for a performance system with interchanging optical like the reflex.

The photos of the year 2006 are therefore fairly uniformed between Canon G5 and 30D, which first use was in Modena in occasion of the "1000 Miglia".
These are other lens in my possession:

- Canon EF-S 18-55 F3.5-5.6
- Fish-eye Zenitar 16mm F2.8
Finally in December 2006 I have bought the Sigma 20-40 F2.8-2.8 EX and flash Canon 580 EX for "Indoor Show".
The first important use of 30D+Sigma 20-40+580EX has been at the "Bologna Motor Show 2006". Personally I'm very happy of images quality!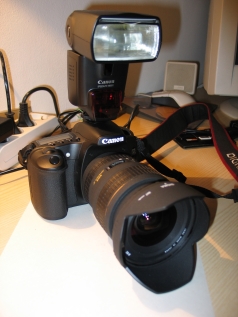 Canon EOS 30D + Sigma 20-40 F2.8 EX + Flash Canon 580 EX
A great update equipment came during 2007
In the month of January I finally found, after a long search, a rare and old lens of Canon L series. The model is a push-pull telezoom Canon EF 50-200 F3.5-4.5 L. I immediately loved the quality of this old lens

Unfortunately AF is not as fast as the latest USM engines, but apart from that, I have nothing to say. The quality of shots is fantastic with sharp images and vivid colors. Dispite the age, this lens is constructed in a very robust plastic body. After 20 years still works perfectly!
Canon EF 50-200 F3.5-4.5 L
Another lens has become part of my photographic equipment, this time in the month of September.
I decided to buy a professional F2.8 lens that could be fine for all occasions, so I had the opportunity to take a wonderful Canon EF 28-70 F2.8 L, used but in really good condition incuring the hood, caps and bag for transport. All for a reasonable price!

Regarding this lens I'm fully satisfied. The construction is accurate and precise, AF is moved by USM engine so is fast and silent. Shots quality is spectacular and also at F2.8 pics are sharp, bright and with natural colors...It's a joy to use!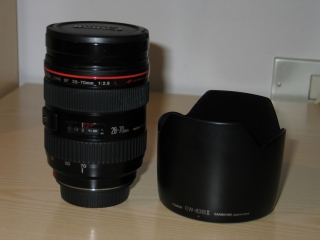 Canon EF 28-70 F2.8 L
The last entry this year came in December. To substantially increase the shutter autonomy and get a better-hand body camera, I took the original Canon battery grip called BG-E2N. Now, take vertically shots become much easier with a second shutter button.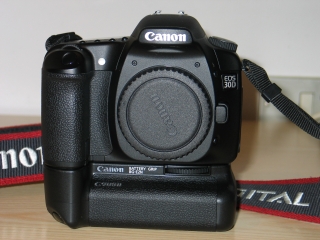 Canon Eos 30D + Battery Grip BG-E2N
Finally here two shots that brings together all lenses currently in my Line-Up: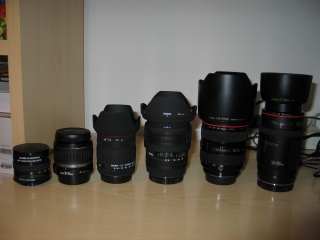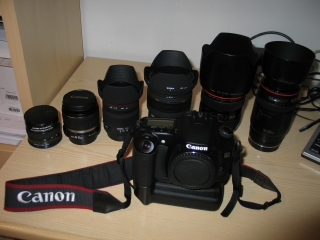 Canon Eos 30D + BG-E2N + All lenses